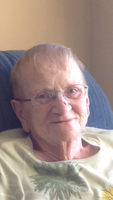 Estella Jean "Jean" Wright
Estella Jean (Thom) Wright passed away peacefully with family by her side on Monday, May 13th. She was born on February 3rd, 1923 in Kane, PA to the late Benjamin and Lenora Galmish Thom.
She was a member of the First Baptist Church of Albion.
Jean married Rance Wright in 1950 and raised four children. She was a hard worker, pitching in with the farm and tending to the children and the household.
Jean later spent many years with her partner Nelson Snell. They created a beautiful floral garden at their home as well as an abundant vegetable garden, enjoyed harvesting their crops and birdwatching. She daycared her two daughters children through their younger years sharing in many memorable moments for the kids. Jean could cook, bake, sew, iron, and clean like nobody's business and her family often reaped the benefits of that.
In addition to her parents, she was predeceased by her sons-in-law Richard Stahl, Norm Starkweather, granddaughters, Elaine and Patricia Stahl, all of her siblings except her baby sister Lenora Anderson.
Jean is survived by her four children; Marilyn (Mike) Kilborn, Daniel ( Lynne) Wright, Carolyn Starkweather, Dave (Marcia) Thom, step-daughter, Velma (Ed) Buttons, sister, Lenora Anderson, grandchildren, Matthew (Felicia) Kilborn, Jessica Kilborn (Ryan Bethem), Michael Kilborn Jr., Jackie (Joseph) Stahl-Vasquez, Ed (Julie Kidney) Reid, Donna (George) Snell, Bridget (Jereme) Haley, Jennifer Thom (Steve Winans), great-grandchildren, Morgan Haak (Elijah Giles), Joselyn and Rachel Kilborn, as well as several other grandchildren and great-grandchildren, nieces, nephews and cousins.
She will be truly missed by her caregivers at the Villages. Though some days were difficult, she would often say "I love you" to her caregivers and many of them shared the sentiment.
The family will receive friends at the Christopher Mitchell Funeral Homes, Inc. 21 West Ave. Albion, NY 14411 on Friday, May 17th from 3:00-4:00pm where her memorial service will follow immediately at 4:00pm.
Please make any donations to an Alzheimer's Association 435 East Henrietta Rd. Rochester, NY 14620, the First Baptist Church 30 W. Park St. Albion, NY 14411 or to a charity of your choice.